U.S. Banks Joins Visa, Mastercard and PayPal in Turning Bullish for Bitcoin
Bitcoin hits $11,200 after weeks of trading sideways...
In this current edition of CoinZodiaC, you'll find...
Banks Get the Green Light to HODL for Clients

Visa & Mastercard joins the foray of crypto payments

Why China is Bullish on BTC again...

Trouble Ahead in the Future of U.S. Dollar's Reserve status?

Gold action a sign of things to come…
---
Once you see the pattern, you can't unsee it: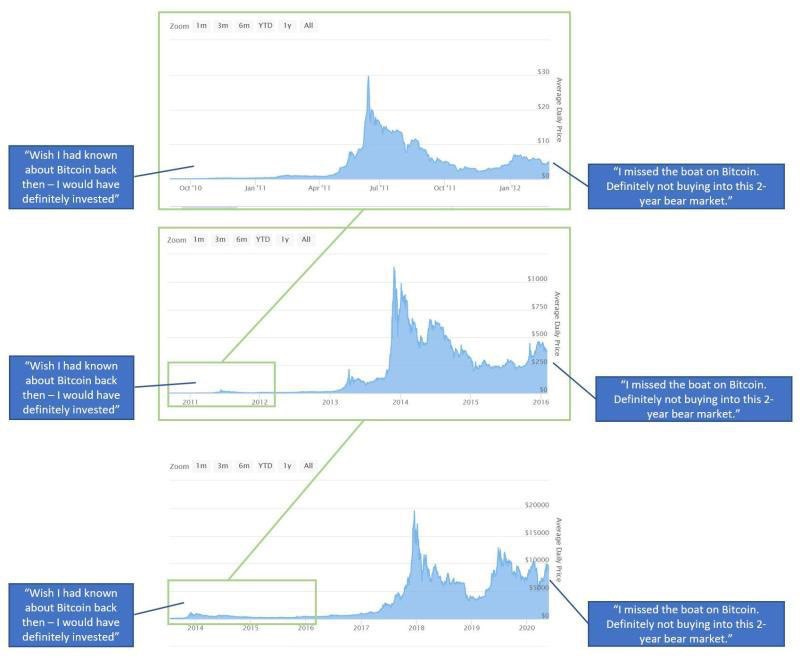 This pattern is called the Bitcoin Cycle of Regret.
It is exactly how it is for most people, hearing about Bitcoin in the headlines, and not making any attempts to own it each time.
It's usually funny how a few weeks of stable Bitcoin prices gets people complaining about how "boring" Bitcoin is. (Usually known for its volatility)
Then all of a sudden, outbursts of price volatility grab the headlines in mainstream media.
… and the cycle repeats itself again.
As far as trying to understand recurring patterns, it is helpful to understand that each cycle will play out until all of the speculative functions of the asset disappears completely. (Speculation is important for discovery/Gold also got off to a rocky start.)
And each time it (the circumstance, the pattern) returns and is ignored, avoided, or otherwise left unattended, the Universe reminds you... with an even "bigger" and "louder," headline, recognizing that perhaps you didn't notice it or weren't able to hear the messages inherent in the (former) circumstance.
This happened to me in 2017, when Bitcoin started making the rounds in major investment newsletters.
Later that year, Bitcoin reached a new all-time high of $19,800.
Bitcoin was born simple. It attracted early cohorts of believers (Cypherpunks) with simple ideals like open protocols, neutrality, privacy and freedom.
From those humble beginnings, an entire movement evolved.
Hundreds of believers were exchanging ideas, discussing developments, proposing and testing cyphers on a daily basis.
Ideas were shared freely.
Then, as more people got involved, their needs became more apparent.
Privacy in an open society requires anonymous transaction systems.
Until now, cash has played its part.
A society based on the internet required a new form of digital cash.
So early attempts were made towards building such a system.
It's a co-evolutionary process, where everybody is optimizing according to their knowledge and incentives.
Arguably, some of the most brilliant minds were hard at work for almost two decades building The Internet of Money.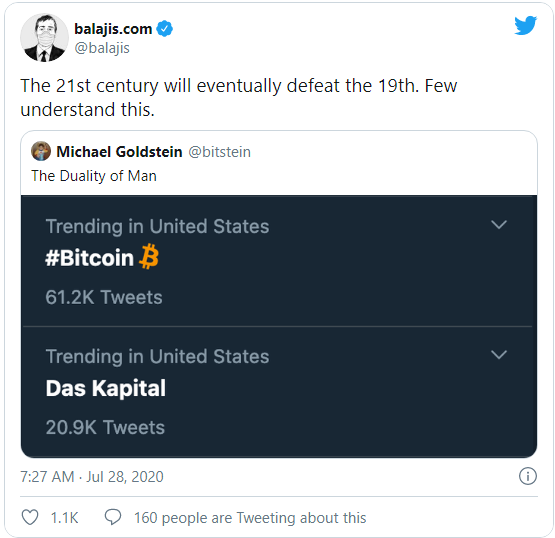 It led to the discovery of Bitcoin.
Decentralized digital money is an incredibly important part of our future.
Do not get left behind.
---
U.S. Banks Get the Green Light to Hold BTC for Customers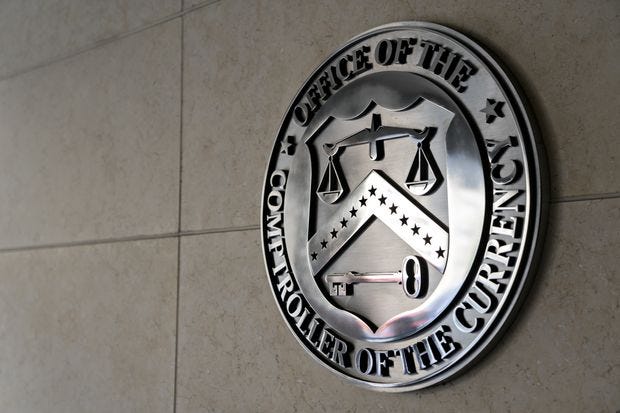 The Risk of A 'Catastrophic' U.S. Bitcoin Ban 'Is Now a Thing of the Past'
Times have changed. It was not too long ago that skeptics were adamant that governments would ban Bitcoin.
Instead, the Office of the Comptroller of Currency (OCC) came out and formally wrote on 22nd July, that National Chartered Banks could now hold crypto for their customers.
"From safe-deposit boxes to virtual vaults, we must ensure banks can meet the financial services needs of their customers today," Brian Brooks, acting Comptroller of the Currency, said in a statement.

"This opinion clarifies that banks can continue satisfying their customers' needs for safeguarding their most valuable assets, which today for tens of millions of Americans includes cryptocurrency."
While the guidance didn't represent a major policy shift, it provided added recognition of cryptocurrency from a federal banking regulator.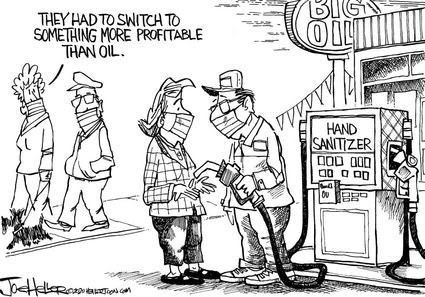 But why now? This is a rather strange announcement considering no one in crypto has asked for this.
Bitcoin is designed to be a peer-to-peer payment system that allows us to "be our own bank."
The core benefits of this entire movement is allowing us the ability to hold and transact money directly with more privacy and higher autonomy. (without needing an intermediary)
Financial institutions are heavily regulated, highly complex and require lots of permission before doing anything, so this is likely something coming from their end.
Institutions could be asking.
The timing is also interesting as the current pandemic/global financial crisis probably has something to do with it.
The trillions of dollars of printing could be taking a toll.
I suspect this will result in some well known exchanges being acquired by traditional banks.
---
Visa Includes BTC in its Payment Network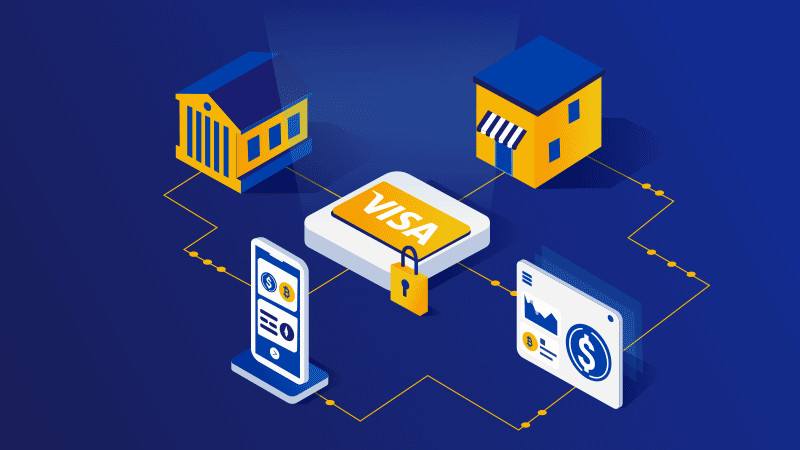 Bitcoin has come a long way since its inception about 12 years ago.
In that time, Bitcoin has gone from nothing to being the 35th largest currency by market cap in the world.
It was just not too long ago that Visa clamped down on users trying to make payments and ATM withdrawals using their BTC funds.
Today, Visa made a 180-degree turn, and is gearing up to support the adoption & development of the future of money.
In a letter entitled "Advancing our approach to digital currency", Visa quoted:
The concept of digital currency—or a digital version of cash controlled by a private key—was created more than a decade ago, with the launch of bitcoin.

We believe that digital currencies have the potential to extend the value of digital payments to a greater number of people and places.

As such, we want to help shape and support the role they play in the future of money.
There are more parallels between early Visa and Bitcoin than you think!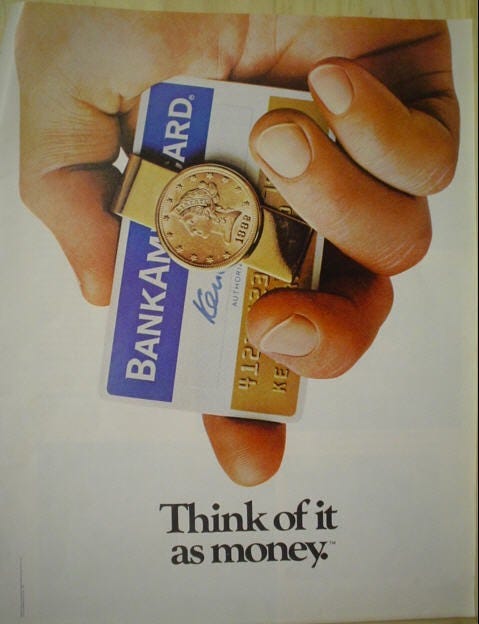 How could a plastic card replace real money? People would never accept it. Merchants would never accept it. Banks would never adopt it.
It would fail.
But it didn't fail. It changed commerce. Many of us grew up using plastic—not cash.
Are there parallels between early Visa and Bitcoin?
Yes There are! Some of these will blow your mind.
Visa founder, Dee Hock gave a speech in 1996 explaining why he created Visa:
"Money is nothing but alphanumeric data and it would become alphanumeric data not in paper form, but in a form of arranged electrons and photons," Hock told the Extension National Leadership Conference over 20 years ago. "And they would move around the world at the speed of light by infinitely diverse paths through the entire electromagnetic spectrum."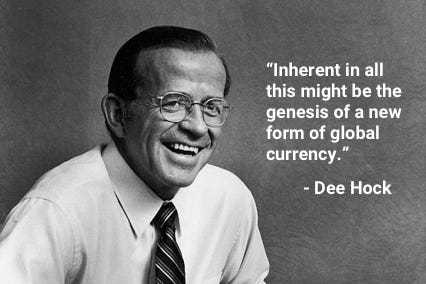 A quote from Dee:
If electronic technology continued to advance, and that seemed certain, two-hundred year old banking oligopolies controlling the custody, loan, and exchange of money would be irrecoverably shattered.
Another:
"Nation-state monopolies on the issue and control of currency would erode…The vast preponderance of the system would fall to those who were most adept at handling and guaranteeing alphanumeric value data in the form of arranged particles of energy."
Last one:
"Inherent in all this might be the genesis of a new form of global currency."
Hock had been slowly coming to the realization that "money" had become nothing more than "guaranteed alphanumeric data" and that the traditional competences of banks would start to matter less and less in the decades ahead.
Visa is currently working with Coinbase and bitcoin rewards app Fold to bridge the gap between crypto and its existing global network of 61 million merchants.
It's a Big Deal!!
Meanwhile, Mastercard is following in Visa's footstep to extend its crypto program to make it easier for companies in the space to issue their own payment cards.
"The cryptocurrency market continues to mature, and Mastercard is driving it forward, creating safe and secure experiences for consumers and businesses in today's digital economy," Raj Dhamodharan, Mastercard's executive vice president for digital asset and blockchain products and partnerships, said in a statement.
Elsewhere, PayPal, is reportedly poised to begin offering cryptocurrency purchases to its 325 million users, potentially joining the likes of popular payments services Cash App, Square and Robinhood.
---
China's Influencers are Pushing for a Bitcoin Rally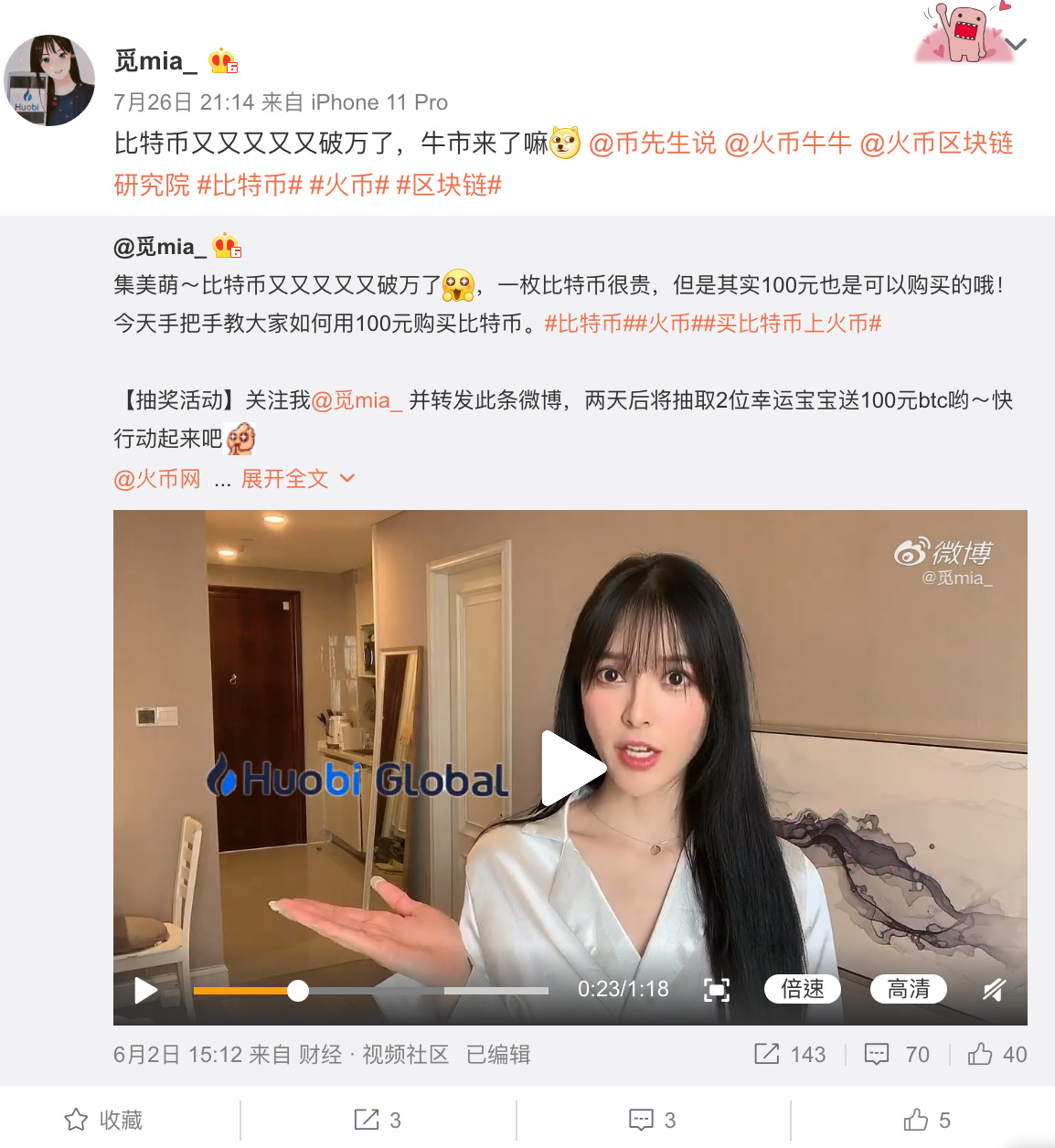 Online influencers hired by crypto exchanges are encouraging customers to get in on the action with as little as 10 RMB. ~US$1.40

All of this occurs offshore and users must have a VPN.

Crypto trading remains illegal in China.

Courts in China affirms property rights of BTC
It looks like defiance in Mainland China as crypto exchanges are encouraging netizens to participate in the BTC rally.
Bitcoin hitting 5-figures was a big hit on Weibo as the phrase, "bitcoin hits $10,000 mark" trended with an audience of over 130 million across 4300 discussions.
Common questions popping up among newcomers were:
What is bitcoin?

What does it mean that bitcoin hits $10,000?
For those unclear, China is pro on blockchain technology but loathes the idea of Bitcoin as decentralized currency.
Nation states would lose control over their power to manipulate currency if Bitcoin becomes mainstay.
Huobi for example partitions it's exchange business held offshore from its tech software business/blockchain based in China.
Online influencers sponsored by Huobi were active in promoting the milestone with one "mimia_" who has over 74,000 followers, publishing a video on how to use ¥100 Yuan to buy bitcoin with the hashtag, "Purchase bitcoin on Huobi."
Similarly, OKEx's hired online influencer put together a tutorial video on how to purchase Bitcoin from OKEx with only ¥10 Yuan.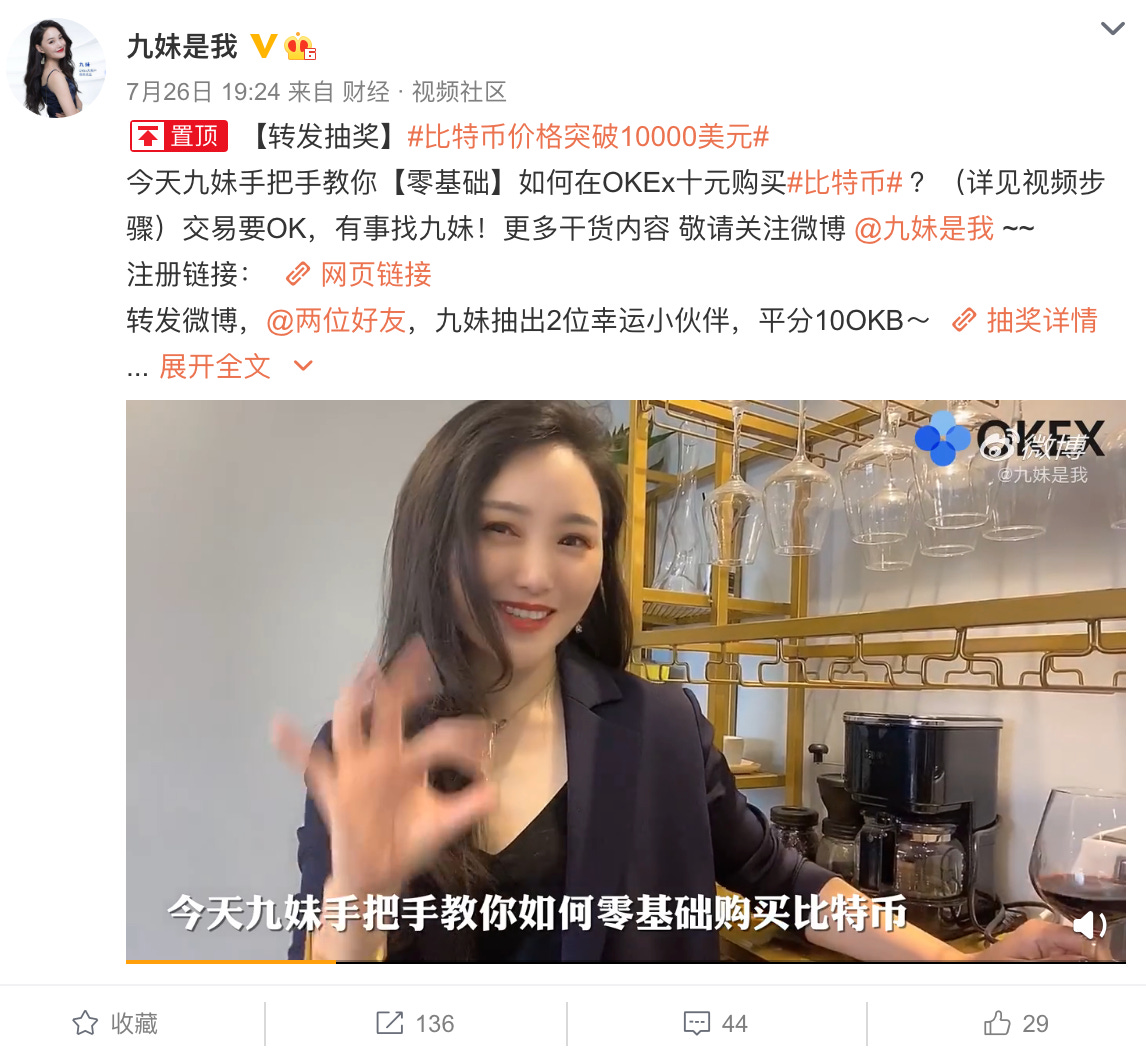 All of this is happening while the erosion of confidence is threatening China's $43 trillion banking system. Rumors are spreading in China as account holders descended onto 3 top banks to withdraw as much cash as possible due to fears of cash shortages.
---
Goldman Sachs: "U.S. dollar's reserve status is At Risk"
In a note to clients, the investment bank is reaffirming its position of gold as the "currency of last resort" while raising concerns of record level debt accumulation by the U.S. government in an economic backdrop of rising geopolitical tensions.

Goldman Sachs added that ''debasement risk" is growing due to policy makers strategy against the Covid-19 pandemic.
That's not all, an Ex-IMF official also warns that a "blow-up event'' could sink the currency in a sudden loss of confidence.
Not the kind of gradual decline that lead to a subtle loss of power in the future.
The official adds that "Major Companies going bankrupt could trigger this unprecedented crisis."
Will the Dollar be replaced as a Reserve Currency Soon?
I'm not so sure, the Yuan is too weak, tightly controlled and manipulated to suit its millions of exporters. While the Euro is too fractured to find political and economic union. It would mean that the 26 states would need to sign over their sovereignty.
That's not going to happen anytime soon.
All this ends up pointing to gold being the currency of last resort.
With governments bent on giving away free money, gold would seem like an old friend visiting from the past.
Important to note that some countries like China, Russia, Turkey, Kazakhstan and Uzbekistan went on a gold buying spree since 2011.
The global economy was flashing warning signs since 2008 - 2009. It makes sense.
In China, citizens were barred from buying precious metals, investors have to rely on purchasing paper gold products offered by commercial banks as a way to hedge risk.
As gold prices keep rising in response to higher investment demand, bullion banks have a ~US$39 Billion short position that can quickly become a problem if
a. Prices keep rising &

b. more investors ask for physical delivery.
This would trigger a parabolic rise in the prices of gold and cause problems for banks. Similar to the remarkable events in the oil price which saw West Texas Intermediate go negative earlier this year. That was caused by an excess supply of physical oil; in the gold market, the fear is of insufficient supply.
Indeed, the U.S. Mint has already reduced the volume of gold it's distributing to authorized purchasers. Citing the pandemic as the root cause for reduced capacity.
If you can't get your hands on gold bullion, the next best store of value is BTC. Paul Tudor Jones, a legendary investor compares BTC to gold in the 1970s.
Here's a good summary of how he thinks this through.
P.S. Stop buying gold you'll never touch. Regain ownership of your money with Bitcoin!